Ayurveda is a traditional natural treatment system that originated in India at least 5000 years ago. Ayurveda is a Sanskrit term, comprising the words Ayus (meaning Life) and Veda (meaning Knowledge or Science). Ayurveda, is therefore by definition, the knowledge (or science) of life. 

Ayurveda is hailed worldwide as a therapy that promises holistic wellness of the body, mind and soul. It involves purifying and detoxifying the human body with the help of various natural herbs and herbal combinations. The functional aim of any Ayurvedic treatment is to heal existing sickness, prevent future illness, and preserve life.
Ayurveda is generally applied through a variety of therapies such as restrictive diets, herbal medicines, massages and exercise. It uses only natural herbs and oils that are of great medicinal value to restore any imbalances in the body.
Ayurveda is not just a mode of treatment, though. It has become a way of life here in Kerala. In fact, Kerala is the only state in India that still practices Ayurveda as a form of mainstream medicine. Kerala is blessed with a good climate, and an abundance of natural herbs that makes it the best place to enjoy a rejuvenating Ayurvedic therapy session.
Benefits of Ayurveda
1.  It addresses the root causes of diseases.
While normal medications cures only the symptoms of a particular disease, Ayurveda goes a step deeper and aims to address whatever abnormality is causing the disease itself. This ensures that the disease does not reappear in the body anytime soon.
2. It is 100% natural.
Ayurveda uses only natural herbs and minerals to treat the ailing person. So there is no harm done to the body. It is completely safe and there are no negative side effects.
3. It eradicates stress.
Stress seems to be the most common reason for many ailments in the present day and age. The Ayurvedic massage treatments especially, help a lot to release the internal pressure buildup and stress in a person's body.
Best Time For Ayurvedic Treatment
The best time to opt for an Ayurvedic treatment in Kerala is without doubt the monsoon season, especially the month of Karkidakam. The temperature in the rainy season (from June to September) is maintained at 24-28 degrees which makes it very conducive for the body to receive the therapy. The atmosphere during this season is cool, moist and dust free which opens up the body's pores, making it absorb the oils easily.
Types of Ayurvedic Treatments
Ayurvedic treatments can be classified into two broad categories:
Preventive treatment : taking preventive measures to prevent diseases.
Curative treatment     : intensive measures taken to cure an existing disease.
Any type of curative treatment first begins with the internal purification of the body (also known as Panchakarma). Panchakarma uses herbal medicines to removes the toxins from the body, improve the body's metabolic process and restore any imbalances.
There are 5 ways in which Panchakarma  treatment may be administered. Any one of these therapies or a combination of two or three of them, are generally used for this treatment process.
1. Vamana
Vamana uses emetics (a substance that causes vomiting), to eliminate toxins present in the respiratory tract. It cures diseases such as asthma, allergies, nasal congestion, obesity, skin disorders, etc.
2. Virecana
Virecana therapy uses laxatives to remove toxins from the liver and gall bladder. It helps cure diseases such as diabetes, constipation, psoriasis and gynecological problems.
3. Basti
Basti uses medicated enema in the form of medicated oils and herbal concoctions to eliminate toxins from the colon. It helps cure conditions such as paraplegia, cervical spondylosis, constipation, digestive problems, backache, obesity and infertility.
4. Nasya
Nasya uses nasal administration of medicated oil to remove toxins from the head and neck region. It helps improve memory, gain better eyesight, and cures conditions such as insomnia, headaches, migraine, nasal allergies and sinusitis.
5. Rakta Mokshana
Rakta Mokshana refers to the blood letting therapy through which blood is purified. This therapy however, is performed very rarely as there is a high risk of infection.
Following the Cleansing treatment, the actual curative treatment is commenced. A good Ayurvedic doctor will be able to prescribe the right curative treatment based on your body's unique requirements. Some of the more commonly followed treatments are listed below:
1. Pizhichil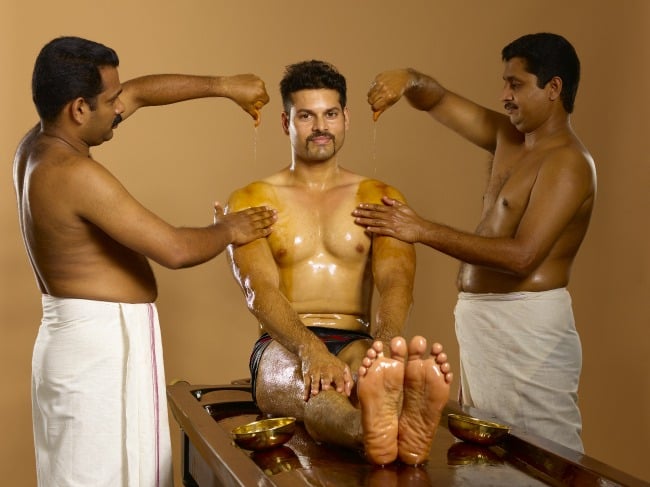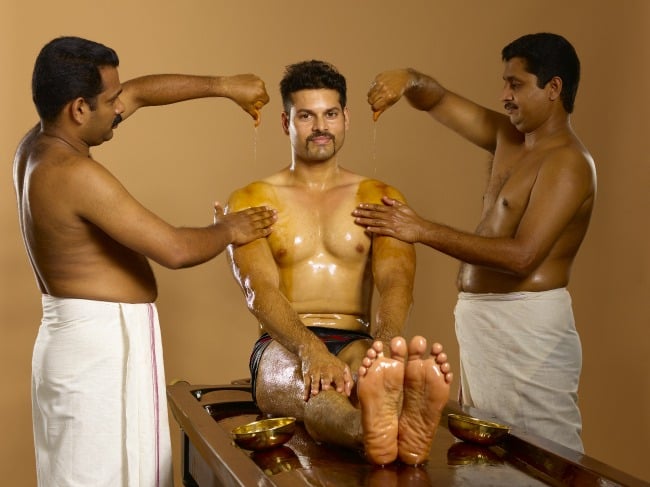 The person is asked to lie on a wooden table, and 2 – 4 highly trained therapists apply lukewarm herbal oils all over the body in a rhythmic manner. One session lasts 60 to 90 minutes and the recommended period of therapy is 7 to 21 days. This treatment is used to cure rheumatic diseases such as arthritis, paralysis, sexual weakness, nervous weakness and nervous disorders.
2. Njavarakizhi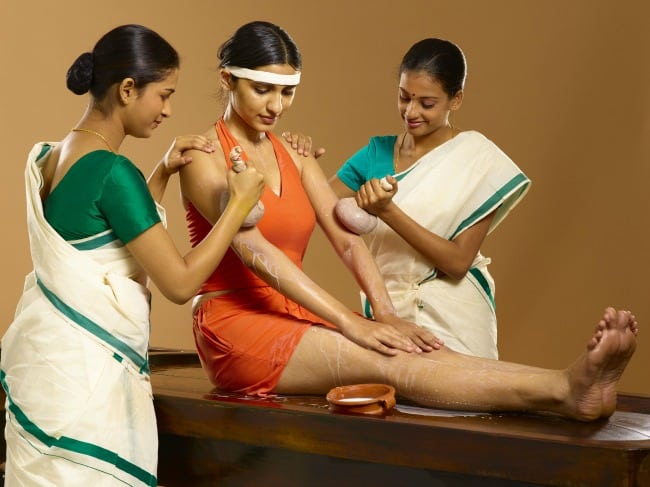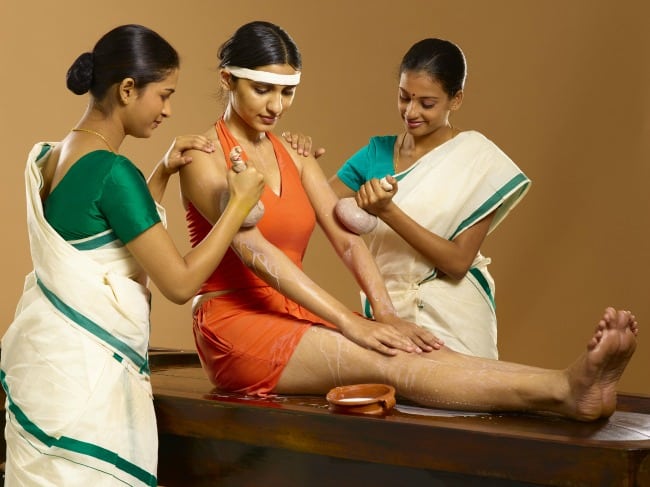 This treatment follows the process of sudation – making the body sweat. Medicinal puddings are externally applied to the whole body, or specific parts of the body for about 60 to 90 minutes, and the entire treatment lasts 14 days. It treats rheumatism, emaciation of limbs, joint pains, high blood pressure and skin diseases.
3. Sirodhara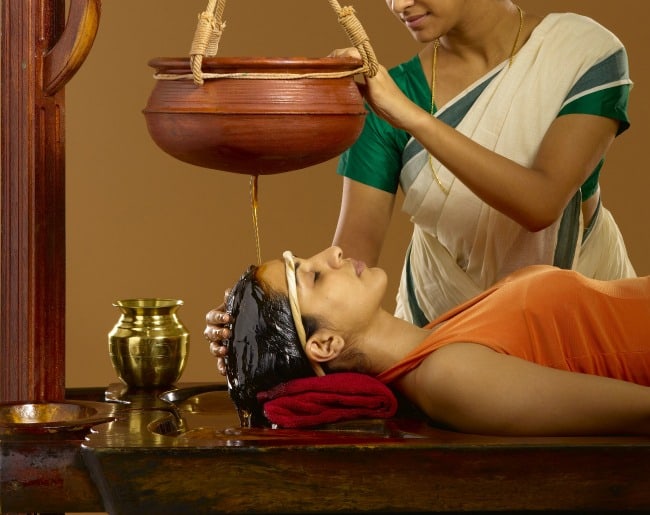 In this treatment, herbal oils, medicated butter milk and milk are continuously poured on to the forehead for about 40 minutes. The recommended treatment period ranges from 7 to 21 days and helps treat insomnia, short term memory loss, skin diseases, headaches and mental illness.
4. Vasthi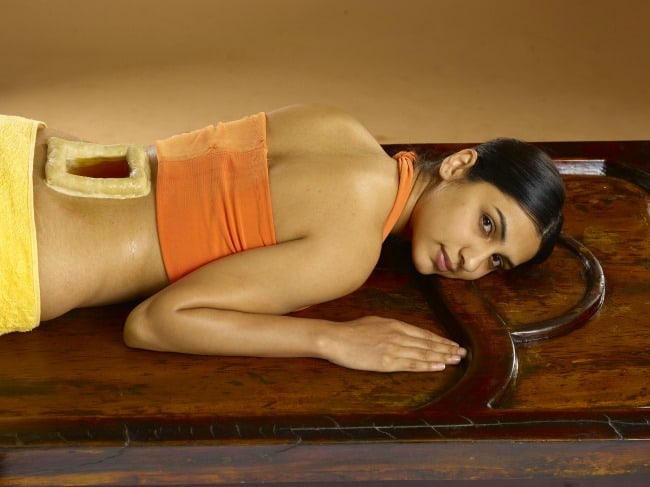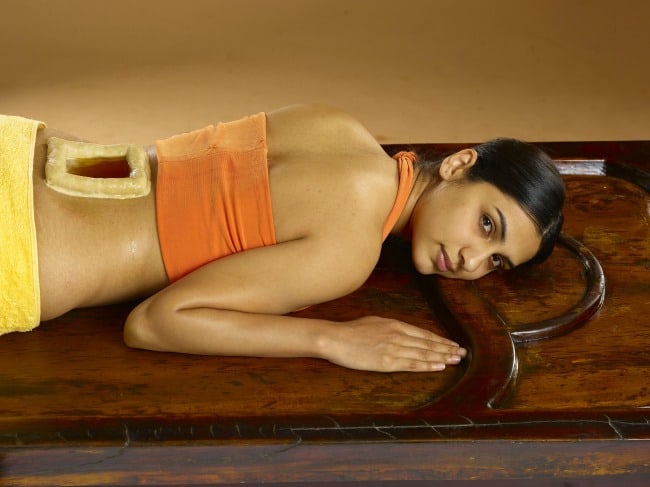 This treatment uses the procedural application of herbal extracts and oils as an enema. When done for a period of 5 to 25 days, it helps treat arthritis, hemiplegia, paralysis, numbness, rheumatism and gastric problems.
5. Sirovasthi
In this treatment, a cap is fitted to the person's head and lukewarm oils poured into it. The oil has to remain there for a period of 15 to 60 minutes depending on the condition of the patient. The entire treatment has to be done for about 7 days, and is an effective treatment for paralysis, dryness of the nostrils, throat, mouth and head diseases.
6. Udvarthanam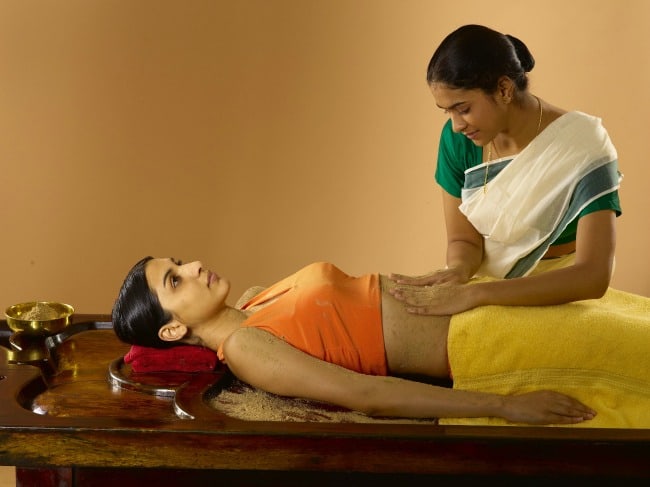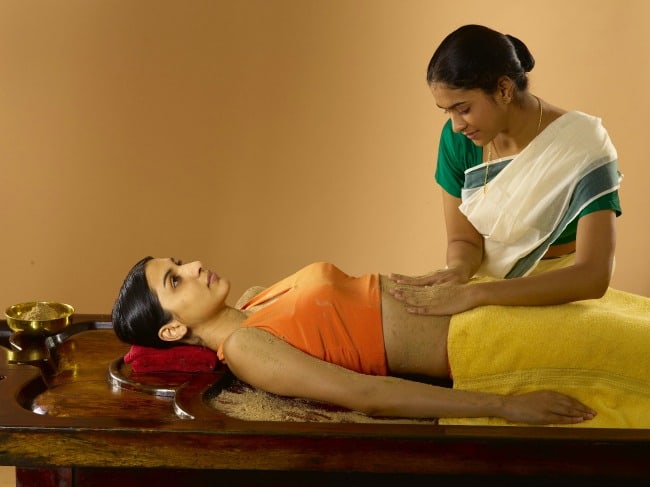 This treatment (also known as powder massage) involves two therapists applying a specially concocted herbal powder on the body for about 30 – 40 minutes. The duration of the treatment ranges from 14 to 28 days and helps treat complications such as paralysis, obesity, impaired circulation and skin diseases.
7. Abhyangam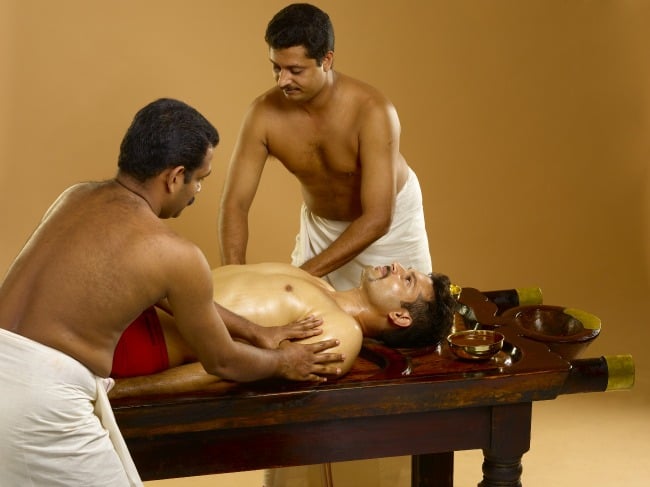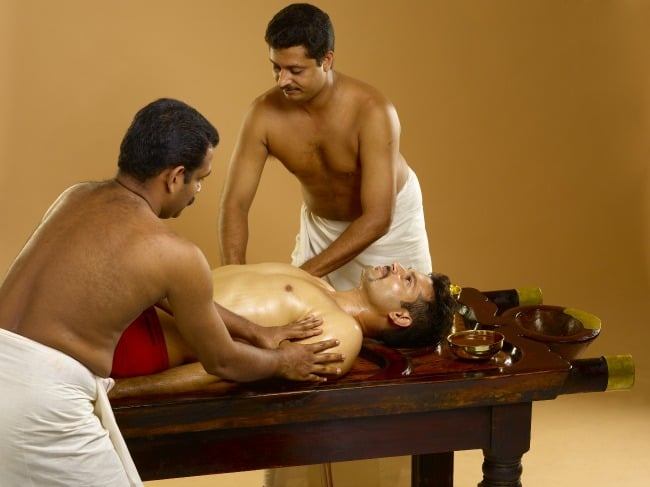 This treatment is basically a 45 minute long oil massage done with rhythmic strokes to improve blood circulation. When it is continued for about 14 days, it helps rectify conditions such as obesity, loss of skin luster, sleeplessness and fatigue.
8. Nasyam
This treatment involves the application of medicated oils and herbal juices through the nose. The duration may range from 7 to 14 days, and is an effective cure for certain headaches, skin diseases, paralysis and mental disorders.
9. Kizhi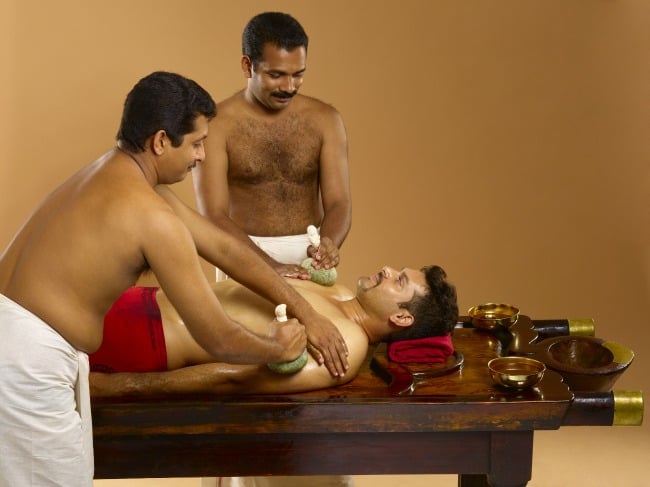 This treatment uses small herbal pouches filled with herbs that are warmed in medicated oils. These pouches are then used to massage the entire body or specific areas for about 40 minutes. When done for the recommended 7 sessions, it greatly improves vigor and vitality. It is an effective treatment for relieving arthritis, paralysis, neuro-muscular diseases, degenerative joint disorders, rheumatic disorders and spondilitis.
10. Snehapanam
This treatment involves the oral administration of medicated oils, and also serves as a preparatory process for purification of the body. When done for a period of 8 – 12 days, it can help relieve digestive disorders like ulcers and irritable bowel syndrome, skin diseases like psoriasis, rashes and boils, urinary disorders, diabetes, gout and epilepsy.
11. Yoni Prakshalanam
This treatment involves the cleansing of genital organs with medicated oils. It is an effective treatment for gynecological disorders and also helps avoid fungal or yeast infections. The treatment period may range between 14 – 56 days.
12. Lepanam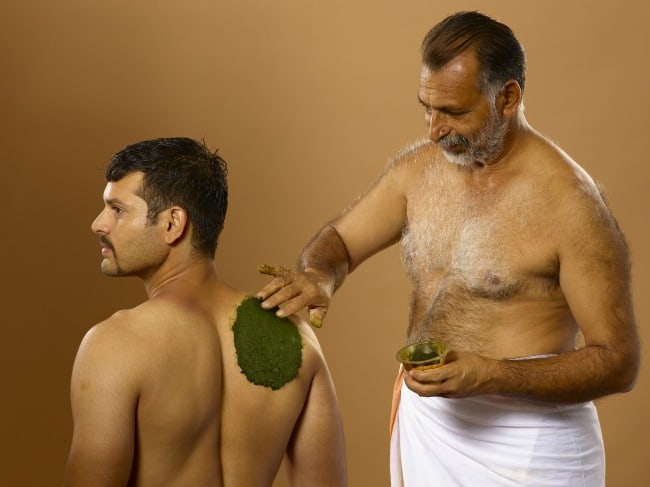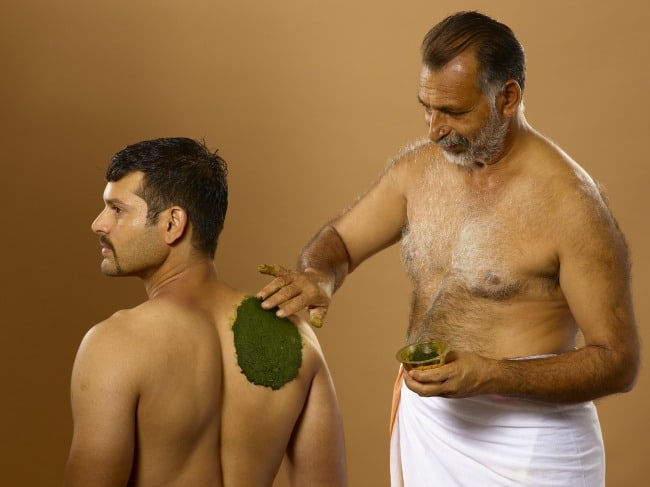 In this treatment, warm herbal paste is applied on the afflicted areas and allowed to dry for about 45 minutes. It is alleviates a variety of inflammatory diseases of the body including rheumatoid arthritis, abscess, osteoarthritis, edema, gout, back aches, head aches and skin diseases. This treatment is usually done for a period of 45 – 60 days.
All these above treatments eliminate toxic elements from the body and as a result, drastically reduces the chances of a recurrence of the same ailment.
Famous Ayurvedic Centers of Kerala
Kerala has a large number of Ayurveda spas and medical treatment centers. All of them offer a variety of packages that you can choose from based on they type of treatment you require. It is highly recommended that you choose a place that has experienced professionals who will be able to diagnose your unique needs and treat your body effectively.Here are a couple of recommended Ayurvedic centers.
Kottakkal Arya Vaidya Sala
Its one of the most popular Ayurvedic center of Kerala. Their main center is in Kottakkal, but they have branches all over Kerala. This establishment is actually over a century old. What was started essentially as a village clinic has now grown into a multi-unit, multi-disciplinary and multi-crore organisation.
Apart from their treatment centers, they are also leading manufacturers of Ayurvedic medicines, and pioneers of research and education in the Ayurvedic field.Location & contact details are as follows :
Pillayar Kovil Road Kannur, Kerala, 670001 Tel:0497-2761164, Email: kannurbr@aryavaidyasala.com
Kottakkal, Malappuram, Kerala, 676503 Tel : 0483-2743380, Email: avsho@sancharnet.in
IV/21,Madukkani centre, Kanhikkuzhi Junction, P.O. Muttambalam Kottayam, Keral,  686004, Tel : 0481-2574817, Email: kottayambr@aryavaidyasala.com
Kallai Road,  Kozhikode, Kerala,  673002, Tel: 0495-2302666, Email: cltkallai@aryavaidyasala.com
Behind Bharath Matha College, Thrikkakkara Kochi Eranakulam, Kerala, 682021, Tel : +91-484-2554000, Email: ahrcekm@aryavaidyasala.com
 Amala Ayurveda Hospital
Amala Ayurveda hospital & research center is located in Thrissur and is established in 1982. Amala is equipped with well qualified doctors and paramedical staff. The hospital is consists of 60 beds. Special treatment like Panchakarma Therapy, Pizhichil, Pathrapadaswatham, Choornakizhi, Balukaswatham, Navarakizhi, Thailadhara, etc. are provided by the hospital for the patients who are suffering from facial paralysis, rheumatoid, arthritis, hemiplegia, paraplegia. The hospital is is providing health resort cottages for all international and residential patients.Location & Contcat details are as follows :-
Amala ayurvedic hospital and research center
Amala Nagar PO, Thrissur – 680 555,Kerala
Phone : +91-487-2303000
Fax      : +91-487-2303030
Nagararjuna (Kalady)
Nagararjuna is located in the banks of Periyar river at Kalady one of the renowned place of Shankracharya. The center is equipped with designed room intimate rooms supported with all amenities. Ayurjeevanam is the hallmark granted to Nagarjuna at Kalady which is based on individuals physical, mental, and social aspects.
Dhanwanthari Vaidyasala
Dhanwanthari Vaidyasala was established by Vaidyan C.N Naboothiri in 1933 and has been operating across Madras, Bangalore, Coimbatore, Salem, Erode, Kanyakumari. Dhanwanthari  is preparing almost 400 classical ayurvedic preparations with 1500 herbal materials.
Vaidyaratnam Nursing Home
Established in 1951, this 98 bedded, full-fledged, multi-speciality hospital offers the authentic traditional Kerala Ayurveda treatments. Vaidyaratnam Nursing Home has an expert panel of medical practitioners, highly experienced therapists and nursing professionals.
You can choose from a variety of deluxe rooms, suites and cottages for the duration of your stay here. They also have a full-fledged physiotherapy center, yoga center, library, wi-fi connectivity, a canteen serving special Ayurvedic cuisine and even a museum where you can familiarize yourself with Ayurveda.
Whether you need treatment for stress, detoxification, weight-loss, rejuvenation, pain management or any of the chronic diseases, Vaidyaratnam Nursing Home will work out a treatment plan to help you overcome it.
We have good contact with  large number of Ayurvedic centres across Kerala that can offer you with best of treatment & can fit according to your need & pocket . Also most of the leading resorts and star hotels also have Ayurvedic centers attached to them.